Topping T60 Class-T Digital Amplifier Mkll Review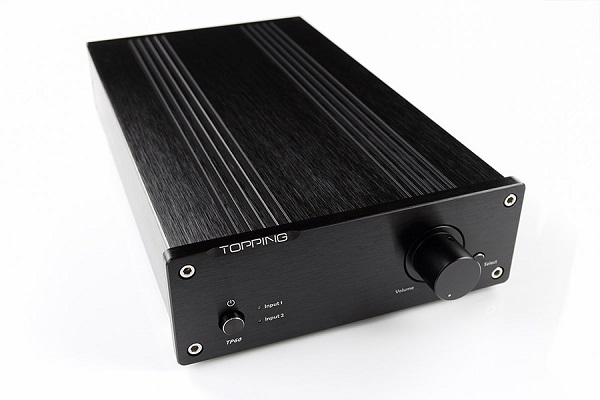 Topping is a Chinese brand of electronics OEM specializing in compact consumer audio equipment. They established in 2008 and they now have an expanding catalog of portable and desktop budget audio equipment. In 2014, they released an updated version—the Topping T60 Class-T Digital Amplifier Mkll. The Topping T60 Class-T Digital Amplifier, based on the Tripath TA2022 IC, has remained Topping's flagship Class-T amplifier for almost a decade now and it's priced at a modest USD 200. And that ridiculously low price includes free worldwide shipping from most online resellers.
Background
In 2007, a 6moons review of the Winsome Labs Mouse Digital Amplifier got me interested in Class-T Amps. After a lot of search and research I ended up trying the Topping T60 Class-T Digital Amplifier Mkl. I was hooked and to date I mostly prefer having a T-Amp on my computer desktop. They are compact, efficient and can be left turned on 24×7 if I really wanted to. I have spent my time listening to a few T-amps, over the years, and nothing has ever come close to the original Topping T60 Class-T Digital Amplifier Mkl. So it was time to see what the new updated Topping T60 Class-T Digital Amplifier Mkll has to offer.
Technology
Tripath Technology TA2020 Audio Amplifier, launched in 1998, is considered as one of 25 microchips that shook the world. There's a subset of audiophiles who insist that vacuum tube–based amplifiers produce the best sound and always will. So when some in the audio community claimed that a solid-state class-D amp concocted by a Silicon Valley company called Tripath Technology delivered sound as warm and vibrant as tube amps, it was a big deal. Tripath's trick was to use a 50-megahertz sampling system to drive the amplifier. The company boasted that its TA2020 performed better and cost much less than any comparable solid-state amp. To show off the chip at trade shows, "we'd play that song—that very romantic one from Titanic," says Adya Tripathi, Tripath's founder. Like most class-D amps, the 2020 was very power efficient; it didn't require a heat sink and could use a compact package. Tripath's low-end, 15-watt version of the TA2020 sold for US $3 and was used in boom boxes and mini stereos. Other versions—the most powerful had a 1000-W output—were used in home theatres, high-end audio systems, and TV sets by Sony, Sharp, Toshiba, and others. Eventually, the big semiconductor companies caught up, creating similar chips and sending Tripath into oblivion. Its chips, however, developed a devoted cult following. Audio-amp kits and products based on the TA2020 are still available from such companies as 41 Hz Audio, Sure Electronics, and Winsome Labs. Source—LINK.
Set-up
The following equipment was used for this review:
Raspberry Pi3 with SanDisk Ultra 32GB SDHC.
Music, predominantly 24 bit and 16 bit FLACs, stored in an external 1TB WD Elements HDD.
Allo Boss DAC with Allo acrylic black enclosure.
Powered by Anker PowerPort paired with an aftermarket USB cable with on/off button.
Controlled by Moode OS via an iPhone using AP mode.
Bookshelf speakers: Mordaunt Short Avant 902i and Dali Zensor1.
Audiocadabra Ultimus3 solid-silver custom handcrafted audio cables to finish the setup.
Other audiophile accessories and tweaks collected over the years and now part of my audio ecosystem.
A super-efficient budget Class-T amplifier like the Topping T60 Class-T Digital Amplifier Mkll deserves a matching super-efficient budget audio ecosystem and hence the choice of equipment.
Expectation
Setting realistic expectations from anything can avoid a lot of disappointments. This USD 200 T-Amp is in consideration for a secondary set-up in a medium to small sized room possibly for use on a desktop for near-field listening.
Before I share my listening impressions I would like to share what my expectations from a compact amplifier is. I'm predominantly a desktop audiophile in pursuit of compact audio equipment high on performance and low on features (purist approach). The following minimalist features is what I seek in compact amplifiers:
A modern Half-width size with minimal footprint. That which can either be placed on a desktop or atop the PC's CPU (if they still exist).
A power button on the front faceplate of the amplifier. Strangely, even today, a lot of compact integrated and power amplifiers out there, still have the power button on the backplate.
Most compact amplifiers are either Class-AB or Class-D with power output that will be less compared to their full-width counterparts.
Powerful enough to drive most commonly found desktop speakers with a sensitivity range of 86dB and above.
A clean PSU preferably a linear PSU. It's difficult to find compact amplifiers, especially Class-D amplifiers that use linear PSUs as most of them use SMPS that seems more than sufficient for most modern super-efficient Class-D amplifiers.
At least 02 RCA inputs so that one can enjoy a minimum 02 sources.
Decent quality RCA jacks and speaker binding posts (not spring clips).
Branding, pricing, marketing and the associated bling is secondary to me. Anything more than above features are most likely an unwanted luxury in my book. The Topping T60 Class-T Digital Amplifier is just one of many compact amplifiers, from across different classes and brands, that happens to fit the above requirements.
Impressions
The shipment was dropped at my door via FedEx. Unboxing was a breeze. The Topping T60 Class-T Digital Amplifier Mkll comes with a power cable (with UK plug) and a user manual, neither of which was of much use to me. If I ever get stuck I'll quickly search online for the digital copy of the manual or write to the manufacturer for trouble shooting (if ever). I must mention that the packing materials used is very simple and clever. They are cost effective and very practical. The bulletproof packing, including the 1-inch thick foam padding, ensured that the device reached me in impeccable condition.
The first thing that impressed me about the Topping T60 Class-T Digital Amplifier Mkll is the build quality. They are built like a battle tank and they weigh a ton for a Class-T amplifier. They weigh 5kgs unboxed. They have a half-width design with a narrow faceplate and a long body and that fits perfectly atop my vintage PC Dell Vostro's CPU. That's precious real-estate, in super congested Mumbai city, well utilized.
Some of the cosmetic changes that can be found on this new Mkll model are:
The topping branding is printed at an angled surface on the top left hand side edge of the faceplate.
New aluminium shell design that allows RCA plugs to fit more snugly on the sockets.
Improved LEDs. The input selector now corresponds with 02 tiny blue LEDs instead of a single bigger dual-color (Blue and Green) LED found on the Mkl.
Manufacturer also confirms improved protection algorithm and better hi-fi components.
There are no vents or heatsinks on the aluminium enclosure since this is a Class-T amplifier. During extensive non-stop burn-in sessions, the Topping T60 Class-T Digital Amplifier Mkll never got as warm, to the touch, as the Mkl and remained very cool and never went into a overdrive protection mode.
The power output of the Class-T digital amplifiers are based on/restricted to the choice of IC used. The Topping T60 is one of the few Class-T digital amplifiers based on TA2022 IC. These chips were manufactured by Tripath Technology and they are no longer in the business. So what this essentially means is that these are NOS (New Old Stock) chips that will eventually run out of supply. Topping claims to have a stockpile of these NOS chips.
The Topping T60 Class-T Digital Amplifier Mkll uses 02 toroidal transformers, adding much to the bulk and weight of this digital amplifier, for achieving a linear PSU and a level of performance not achieved by other Class-T amplifier counterparts.
Performance
The Topping T60 Class-T Digital Amplifier Mkll was given over 100 hours of burn-in before I started critical listening sessions. During burn-in, they would get a playtime of a minimum 15 hours to a maximum of 30 hours non-stop. In the budget setup that I've used for this review almost all the modern components/devices used are super-efficient and very low on power consumption than conventional audio equipment.
Getting an amplifier is the easy task and finding a suitable pair of speakers or vice versa is the hard part. Of the many bookshelf speakers that I tried, I enjoyed the Topping T60 Class-T Digital Amplifier Mkll mostly with the Mordaunt Short Avant 902i and Dali Zensor1 bookshelf speakers. It comes as no surprise as both of those speakers were the more efficient (at 89 and 87 dB respectively) than the other bookshelf speakers I had at hand. For medium to small sized rooms they were more than sufficient. If I were to use the Topping T60 Class-T Digital Amplifier Mkll in a larger space then I would consider pairing them with high sensitivity speakers rated at 92dB or higher depending on the SPL I want to achieve.
My current setup is such that I have a pair of speakers on my desktop for near field listening and the same system is also connected to a pair of speakers placed on wall mounts, 02 meters (07 ft.) apart with a HDTV in the middle that is connected to the desktop PC via a long HDMI cable, on the opposite wall for far field listening. I could rotate the speakers and swap the speaker cables depending on what I wanted to listen to. Most of the impressions I share is from my far field listening experience.
Compared to the Mkl the Topping T60 Class-T Digital Amplifier Mkll appears very polite and mellow. The background is blacker and there is a perceived feeling of lower noise floor too. All these result in the volume knob being used at a higher levels with the Mkll than what was possible with Mkl without losing composure. For most of my listening the volume dial was between 9 o'clock to 10 o'clock positions. I never had to crank the volume any higher than that for most high-res playback. It's only when I played complex music, especially movie soundtracks, or changed the source to an external DAC, fed with YouTube videos from the CPU, that I had the urge to crank the volume dial to 11 o'clock position to achieve a comfortable listening level. And it was also only in those certain moments that I really wished the Topping T60 Class-T Digital Amplifier Mkll was a tad more powerful with lots more dynamic headroom to spare.
Topping T60 Class-T Digital Amplifier Mkll is very transparent, detailed and warm. When paired with Dali Zensor1 bookshelf speakers, the soundstage and transparency achieved is very impressive and I'm able to hear micro-details in older poorly mastered Indian recordings that was previously possible only with some of my desktop setup paired with some of my headphones (they are details/artefacts in the recording that cannot be heard even with the Sennheiser HD650 and HD700 headphones). Of course, the headphones delivered these micro-details in spades compared to the speakers used.
What I really enjoy about the Topping T60 Class-T Digital Amplifier Mkll is its ability to engage in a very sublime and intimate way. It sounds so much more detailed, warm and sophisticated than many budget amplifiers and AVRs, from higher price points, that I've experienced in the past. The Topping T60 Class-T Digital Amplifier Mkll actually sounds sweeter, without any harshness/brightness, than a vacuum tube amplifier that cost me 04 times more. It's a staggering achievement regardless of the asking price.
Wrap-up
In 2010 when the Topping T60 Class-T Digital Amplifier Mkl was released it had no peers and now with the release of Mkll it still has no peers at anywhere close to this price point/range. I wonder how Topping has managed to offer so much for so little and for so long!
If you are looking for a Class-T amplifier, in a secondary setup, then consider these. Please don't let the low price trick you into believing that these won't deliver the goods. The key is in pairing them with the right type (high sensitivity) of speakers. In the right setup they have tremendous potential to shine!
Pros
Purist design: Has only the bare essential features.
Sound quality: There is nothing, I've experienced, that comes anywhere close at even twice this price point.
Build quality: Exemplary at this price point.
Linear PSU: One of the very few Class-T amplifiers that uses an inbuilt toroidal transformer based PSU.
Half-width size: Sits atop my vintage Dell Vostro CPU's unused real estate.
Power consumption: Consumes a modest 7 watts.
Very efficient: It never gets hot and I've left them turned on for up to 30 hours non-stop.
Low price: Priced lower than most audiophile cables and accessories.
Cons
Dynamic headroom: Despite the published power ratings I wish this little amplifier had a little more power output so that I could use them with a wider choice of 'not so efficient' commonly found speakers and this also adversely impacts dynamics of complex music especially movie soundtracks. At the same time, I also appreciate the fact that the power output is mostly restricted to the choice of IC used and not necessarily a design or cost compromise.
For more information on Topping click on this—LINK.