Sennheiser HD700 Headphones Review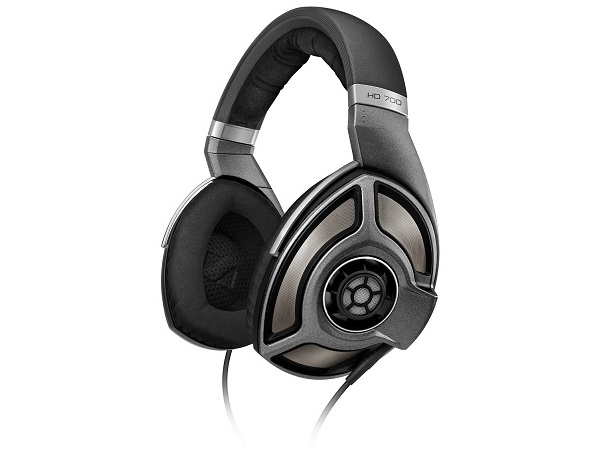 Sennheiser electronic GmbH & Co. KG (branded Sennheiser) is a private German audio that was founded in 1945. In the last 07 decades, Sennheiser has become synonymous with high-quality products in all areas of recording, transmitting and reproducing sound. Sennheiser is also known for making the world's most expensive planar magnetic headphones—the He90 (a.k.a. Orpheus). Only 300 pcs were ever made and they sold for USD 16K in the 1990s and they may command up to USD 30K today, if you are fortunate (or unfortunate) enough to find one, in the used market.
Sennheiser HD700 was launched in 2011, supposedly to fill the gap between yesteryear's flagship HD650 and the current flagship HD800. It has a maximum retail price of USD 1K but they can be found for a discounted prices that could go south of USD 600.
Features
Open, circumaural dynamic stereo headphones.
Outstanding soundstage with a warm and balanced audio reproduction.
Specially-tuned, highly efficient drivers capable of delivering high sound pressure levels.
Highly optimized ventilated magnet system minimizes air turbulence and harmonic, intermodulation distortion.
Open-back ear cups facilitate transparent sound while showcasing cutting-edge industrial design for natural sound experience.
Ultra comfortable and luxurious velour earpads, silicone-treated headband for minimal headband resonance.
Innovative and highly aesthetic dual-material yoke for better stability and eliminates negative influences to sound quality.
Very low THD achieved by top-notch and extremely stable internal damping element.
Symmetrical and detachable silver-plated oxygen-free four-wire copper cable for better conductivity at higher frequencies.
Designed in Germany, assembled in Ireland.
2 year warranty.
Specification
Frequency response (headphones)
10 – 42000 Hz (-3 dB)
10 – 42000 Hz (-3 dB)
Sound pressure level (SPL)
105 dB
THD, total harmonic distortion
< 0,03 %
Ear coupling
Circumaural
Jack plug
¼" (6.3 mm) stereo
Cable length
3 m Symmetrical, silver-plated oxygen-free (OFC) copper cable
Transducer principle
Dynamic, open
Weight
w/o cable: 270 g
Nominal impedance
150 Ω
Operating temperature
–10 °C à +55 °C
Frequency
Diffuse field equalized
Impressions
The Sennheiser HD700 premium headphones come in a black easy-to-open cardboard box akin to the HD650's box. I'm a little surprised that for a product that costs USD 1000 this packing is not only non-premium they are impractical too. The packing is non-premium as there is no way one could determine if the specimen has been used previously or not and the packing is impractical as I would never store these headphones in such a large cardboard box and waste rack space. I found that the Slappa Full Sized Hard Body Pro Headphone Case holds the Sennheiser HD700 perfectly well and allows for easy portability. For comparison, the Oppo PM-1 Planar Magnetic headphones, that fall under this price range, offers their premium headphones in a beautiful piano gloss wooden box and they also include a smaller selvedge denim case for storage and portability.
Even though the Sennheiser HD700 is aimed for portable devices there are no accessories included. The only thing you get is a 3m long cable with proprietary connectors on the headphone side and a 6.3mm TRS jack on the other end. For comparison, the Oppo PM-1 Planar Magnetic headphones includes a longer cable with a 6.3mm TRS jack and a shorter cable with a 3.5mm TRS jack.
The Sennheiser HD700 comes with velour ear pads. They are very soft and extremely comfortable. Unfortunately, they are unfit for countries with tropical climate. These ear pads are sweat guzzlers and skin/hair debris magnet. This leads to regular maintenance. Improper use will lead to foul smelling and deteriorating ear pads over a short period of time. A pair of additional Sennheiser leather or artificial leather ear pads could have been a better alternative for tropical countries. For comparison, the Oppo PM-1 Planar Magnetic headphones includes a pair of velour ear pads and a pair of lambskin leather ear pads.
I feel Sennheiser is not up to speed, with the times, especially with accessories that could add value and practicality.
Performance
The first thing that I noticed about the Sennheiser HD700 headphones is their flawless build quality. The meticulously engineered product is a clever use of plastic and minimal amount of metal for optimized strength to weight ratio. This results in a headphone that is extremely light on the head and is ideal for long listening sessions. Despite the abundance of plastic they do not look cheap, they look more sci-fi than hi-fi.
The HD700 headphones are rated at 150 Ohms and are more easily powered by portable devices than both the 300 Ohms rated HD650 and HD800 headphones. This also means that the HD700 gets fairly loud, very early in the volume dial. With most amps, I could barely get past the 10 O'clock position.
The spectral balance is tipped towards the treble or so it appeared to my sensitive ears when I first tried them. There is more treble detail, energy and extension than the HD650. The HD700 headphones need a good amount of burn-in before they open up to optimum performance. My first impressions were that these headphones have a brighter treble and lighter bass. Post burn-in, I could feel the bass impact bloom, vocals more natural, treble less edgy and the soundstage become more expansive.
The key strength of the Sennheiser HD700 is their soundstage. It is wide enough to make you think that you are not listening to headphones. They were almost like listening to a desktop audio monitoring system. Instruments are well placed and separated within the soundstage created. This is quiet a feat and a treat from a pair of headphones.
Another key strength of the Sennheiser HD700 is the midrange. It sounds natural and as such these headphones are best suited for songs that are predominantly vocal. The vocals on the HD700 are more cut out and that makes them a tad more real than the HD650. I especially enjoyed the song Black Sheep by Natalie Merchant from her self-titled album in hi-res 24bit/88.2kHz FLACs.
The bass impact is a hit and miss affair. There are recordings were the bass drums sound very real and compliment the rest of the upper frequencies very cohesively, and then there are recordings where the synthesized bass sounds very papery and delicate which ruins the overall presentation. The HD650, on the other hand, though a tad muddy, sounds more consistent, there is more quantity/impact, is more effortless and enjoyable. I did not enjoy the hi-res 24bit/88.2kHz album Random Access Memories by Daft Punk with the HD700 as much as I enjoy listening to them with the HD650.
For a pair of dynamic headphones, the HD700 has a very fast and very dynamic presentation. The attack and decay of instruments are faster on the HD700 than the HD650. In songs where the passages start out very low in volume and then eventually get very complex, I could never gauge when the HD700 got really loud. Keeping the volume on the conservative side and adjusting it from time to time, depending on the music being played, really helps.
The timbre and tone qualities of the HD700 comes across as neutral and blunt when compared to HD650's captivating timbre and beautifully lush tone. Surprisingly, the HD700 is very clear and legible as a bell, but it does not have the level of detail and transparency of the HD650. For comparison, the Fostex T50RP planar magnetic headphones and the Brainwavz HM5 dynamic headphones both beat the Sennheiser counterparts in transparency.
I used the Sennheiser HD700 headphones with solid state amp, vacuum tube amp, desktop DACs and a reference portable player. The HD700 is highly source dependent and can be very unforgiving of the source and the quality of music being played. To my sensitive ears, the HD700 sounded their best with pristine 24bit and 16bit FLACs and of course playing it with vacuum tube amps sweetened them a bit. With older 16bit music they not only highlighted the flaws I have never experienced before, they also became sibilant with quiet a few old non-pristine recordings.
Comparison
The headphones that I would like to compare the HD700 is with the HD650. I've already been comparing the two, from the start of this review, but I would like to take it a step further here.
I have been using the HD650, tweaked with a DIY headphone cable, for quiet sometime now, they have served me really well and my sensitive ears absolutely love the HD650's warm sound signature. The HD650 has a dark and slow presentation compared to the HD700's well-lit and fast presentation.
I'll have to give an analogy to better explain this. The HD650 is a like a high performance Plasma HDTV. It has beautiful black backgrounds, unmatched contrast and the most realistic skin tones. Even though the overall picture may appear a tad dark, they are easier on the eyes for the long run and very forgiving of imperfect videos. The HD700, on the other hand, is like a high performance LED HDTV. It has beautifully vibrant colors, almost bordering on over saturation and picture that is sharp (but not necessarily transparent). Even though the overall picture quality may appear to be well lit, they may not be easier on the eyes in the long run and may not be forgiving of imperfect videos.
When I switch back to the HD650 I don't really miss the HD700. Even though the HD650 lacks the details, the speed, the dynamics and the soundstage of the HD700, I completely get immersed in the euphoric and musical presentation of the HD650. The HD650 is more of an all-rounder than the HD700 which is very finicky about the quality and genre of music being played. With imperfect recordings the HD700 can get sterile and edgy, they shine mostly with pristine quality recordings only. The HD650 focuses on what's left in a recording and connects me to the music, whereas, the HD700 focuses on what's missing in a recording and highlights the possible flaws therein.
I'm happy to have both the HD650 and the HD700 in my headphones collection, as they both approach the sound very differently. But if I had to pick just one, that is an all-rounder and easy to live with, then it is going to be the HD650. The HD650 improves a lot and opens up with a good after-market headphone cable upgrade. Between the two, it really comes down to a matter of preference, whether you like the sound to be sweet and dishonest (colored for musicality) or if you like the sound to be rude and honest (true to source).
Wrap-up
The Sennheiser HD700 is a pair of hi-fi headphones and they deserve a hi-fi source and hi-res formats to help them reach their optimum performance. I found that source in the Lotoo Paw Gold DAP (Digital Audio Player). Together they are north of USD 3K, they look like they are made for each other in their grey color accents and matching looks. They make for a highly recommended Class-A portable audio system.
Those wanting to try a good pair of easy-going audiophile headphones from Sennheiser should start their journey with the timeless classic—HD650. Those who already own and appreciate the Sennheiser HD650, the HD 700 will offer high definition performance with good quality recordings and will compliment the headphones collection.
Addendum
I've spent 100s of more hours with both the Sennheiser HD700 and HD650 headphones. My impressions have not changed much from the original review but I'm now able to appreciate their strengths and differences better.
The old school Sennheiser HD650 headphones focuses on what is left of any recording and thus they make for euphonic listening experience with older 16 bit/poorly mastered recordings. The new school Sennheiser HD700 headphones focuses on what's missing in a recording and thus makes for a precise listening experience with newer 24bit/perfectly mastered recordings. Songs such as Creep by Radiohead and Billie Jean by MJ that sounds trashy with the HD700 sounds more bearable and enjoyable with the HD650.
With movies, the Sennheiser HD650 headphones' dark, polite and laidback presentation, with decent soundstage, makes for an unengaging experience. Whereas, the Sennheiser HD700 headphones' well-lit, dynamic and articulate presentation, with a wider soundstage, takes you right to the middle of the story. The HD700 is able to resolve background/ambient information better and is also the better headphones for enjoying movies/videos online.
There is no clear winner here. The Sennheiser HD650 and HD700 headphones have very little in common, their presentation and the way they approach sound is very different from each other. They do not compete, they complement each other. They currently sell for USD 300 and USD 450 respectively. For these heavily discounted prices they are a great bargain. Together they make for a worthy set of headphones to collect and they have you covered in more ways than any single pair of headphones can.
Pros
High-end headphones that shine with hi-fi source and hi-res music.
Class leading details, speed, dynamics and soundstage.
Exemplary build and finish.
Full-sized headphones that are light and very comfortable.
Cons
With imperfect sources they can sounds sterile, edgy and sibilant.
Open-back headphones for solitary listening only.
Lacks basic accessories to make them practical to use.
The long 3m cables are a mess to handle for everyday listening.
For more information on Sennheiser Electronic GmbH & Co. please click on this—LINK.