Rock It Sounds R-50M In-Ear Monitor Review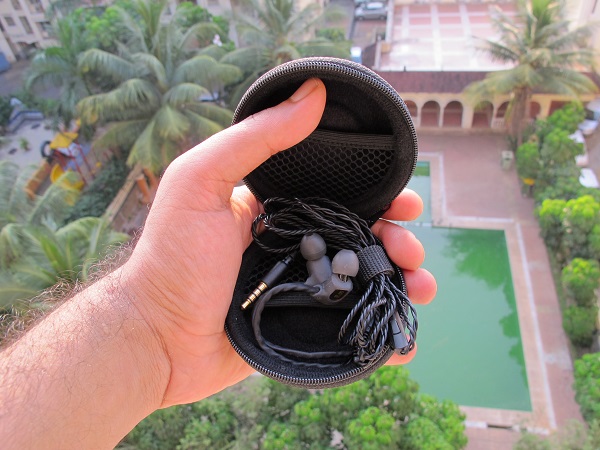 Rock It Sounds is an American manufacturer of high performance In-Ear Monitors (IEMs) and headphones. The R-50M In-Ear Monitor is their latest offering. It is the same IEM as the R-50 but adds a mic and a call on/off button; hence the letter M (Mobile) added to the model number. The R-50M like its sibling R-50 uses Knowles' TWFK series dual Balanced Armature drivers. The R-50M cost USD 126 (equivalent of INR 7500) inclusive of shipping.
There are a lot of forums and discussions that cover – Balanced Armature vs. Dynamic Driver debate. The general consensus is that Balanced Armatures (BA) are more agile than a Dynamic Driver and usually trades bass impact for detail. I found the HiFiMAN RE-400 quiet agile despite the fact that it uses a Dynamic Driver. So now I'm curious; how much more agile does the R-50M get?
Setup & Performance
As soon as I got the R-50M by mail, I connected it to a spare DAC and allowed it to burn-in continuously for 60 hours. I then connected it to a Sandisk Sansa Clip player and sat down for a listen. I was impressed by the details, texture and tonal accuracy that I heard. I put it through another 50 hours of burn-in just to be sure that the BA drivers are fully opened up before I formed any conclusions.
The Rock It Sounds R-50M is very light on construction and materials used. It's in fact very clever use of design and materials. The 02 inches of memory wire that goes above the earlobes can be adjusted and readjusted till one gets a perfect fit. The R-50M is one of the most comfortable IEMs that I have ever tried. They even beat the super comfortable Bose IE2 in this aspect. I could wear the R-50M all day long without feeling any discomfort. The RE-400 IEM, on the other hand, appears to have a more robust construction and appearance; they do keep reminding me that they are plugged in my ears regardless of how I wear them.
Despite my careful handling of these IEMs, one of the silicone tips actually developed a crack on its sleeve. I think this could be a random occurrence and I'm currently in search of an after-market alternative for these tips.
I put the R-50M through the various compact DACs that I had at hand. Through the MF V-Series II the R-50M sounds sweet and euphoric. Listening to the R-50M through the Beresford Bushmaster DAC resulted in an extremely detailed, bright and unpleasant performance. I then tried the R-50M with the Acoustic Fun PocketDAC to watch TV and it took the experience to a whole new level. I felt that I was watching TV in surround sound. The details, the dialogue delivery and legibility is quiet impressive.
The R-50M is a very efficient IEM and they can be played through just about any source without cranking up the volume. It does highlight the sonic signature of the device that it is being paired with. It's easier and safer to settle down for a warm, full bodied, forgiving presentation. The R-50M has a presentation that is light and effortless, it gives out a very textured and light bodied presentation than the dark and full bodied presentation that I'm used to.
The mid-range is clear, detailed and has the right amount of dryness that makes one comprehend exactly how the microphone must have captured the human voice. I have a few audiophile interviews that I have recorded with my iPhone and the only IEM that I would use to listen to these recordings, while preparing my blog posts, is the R-50M. They have a legibility and clarity hard to find at this price point. The R-50M is an IEM by which one can truly understand how coloured other budget IEMs, headphones and DACs can be. The same observation goes for call quality, it's clear, legible and functional.
The high frequencies are well extended and could lead to fatigue with carelessly matched sources. The leading edge of each and every note is clearly highlighted. Attack and decay of instruments have a nice balance of pace and feel to them. I listened to Go Insane by Fleetwood Mac and the R-50M took me straight in the middle of the performance. It was a live recording and it felt live!
With certain recordings the R-50M does highlight sibilance in a more pronounced manner than what I'm used to. Also certain instruments at a certain upper frequency range does get highlighted from time to time. The soundstage and placement of instruments is very good for an IEM. Wind instruments sound very airy and real.
The detailed and agile presentation also offers great insight to older recordings. The World's Greatest Audiophile Vocal Recordings is a 24bit/96kHz recording that I bought and downloaded directly from an international service provider's website. I never fully appreciated the quality of recording that this album had to offer until I listened to it with the R-50M IEM. The efforts gone into an audiophile album such as this is clearly audible. This 24bit recording in FLAC does not sound digital at all like the other 16bit FLACs that I have in my collection.
I'm not a bass-head at all and I could happily settle with the bass extension offered by the HiFiMAN RE-400 IEM which some find to be bass shy. The R-50M is even more lighter in this department. I really wish it had a tad more bass for me to enjoy it with a wider selection of music. The R-50M is quiet like a high performance bookshelf speakers that does need the help of a subwoofer, on certain material, for one to truly appreciate the whole performance in a recording. Getting a correct fit with the correct silicone tip is paramount to extract whatever bass the R-50M IEM has to offer.
It's strange that all the sources that sounded great with the HiFiMAN RE-400 sounds not so great with the R-50M. The RE-400 has an easy going presentation that can appear to be warm and musical, whereas, the R-50M has a honest presentation that may appear detailed and analytical. It took me a very long time to appreciate what the R-50M had to offer. Once I got used to the strengths of the R-50M, every other budget IEM or headphone I use now just appears to be coloured one way or the other. If the R-50M had a tad more bass impact it would have easily become my preferred budget IEM. It can also get unforgiving and picky too with what it's being fed with. The RE-400, on the other hand, is an all-rounder IEM that is much easier to live with.
Both the Balanced Armature R-50M and the Dynamic Driver RE-400 have their own strengths and weaknesses. It really comes down to what kind of presentation that one is looking for. I actually rotate both according to the choice of music at hand.
It's hard to find a Balanced Armature IEM south of USD 200 (equivalent of INR12000). Currently the Brainwavz B2 is a dual BA IEM that is a priced to compete directly with the Rock It Sounds R-50M. It does not have an in-built mic to answer phone calls though but it does come with an aeroplane adaptor and a 3.5mm TRS to ¼ inch TRS adaptor.
Ending Words
The Rock It Sounds R-50M In-Ear Monitor is actually one of the more affordable IEMs that utilises the dual BA driver. It offers a very detailed, textured and agile presentation. It's a tad bass shy for my taste and yet I did enjoy the presentation and insight that these IEMs have to offer to most music that I have tried them with. There is a tonal accuracy and honesty in the presentation that makes digital sound digital. I mean this is not an IEM that is going to forgive a bad quality recording or a digitally harsh source. Pair it carefully and the results can be quiet satisfying and stunning.
Pros 
Light and comfortable, can be worn for hours without fatigue.
Very detailed, textured, agile and honest presentation.
Legibility and clarity is very good and that extends to phone calls as well.
Cons
May sound very edgy with certain sources and sibilant with certain recording.
The included carrying pouch does the job but it is too crammed.
Included silicone tips seem fragile and cracks easily.
A tad bass shy for my tastes.
For more information on Rock It Sounds please click on this – LINK.